Digital transformation in 2022: Blockchain Metaverse is the future.
Over the past year, we have all witnessed the Metaverse go from an idea of fantasy to technical reality. Although the term is not new, it gained popularity and became mainstream after Facebook rebranded itself as Meta Platforms Inc. in October 2021 (also known as Meta) to go beyond social media and tap into the new world of the Internet. Since then, the Metaverse – the convergence of the physical world with virtual and augmented reality – has picked up steam and caused upheaval in various business sectors worldwide.
There is no denying that the Metaverse has captured the public's imagination. Although it is still in its early stages, blockchain plays a crucial role in developing a digital economy. Enabling the use of cryptocurrencies and non-fungible tokens (NFTs), the blockchain is useful for the ownership and collectability of digitized currencies, value transfer, governance, accessibility, and interoperability. Given its limitless capabilities, the Metaverse will provide numerous opportunities fo†r businesses of all sizes, accelerating the growth of vital economic sectors, including real estate.
In futurism and science fiction, the metaverse is a hypothetical iteration of the Internet as a single, universal and immersive virtual world that is facilitated by the use of virtual reality and augmented reality headsets. In colloquial use, a metaverse is a network of 3D virtual worlds focused on social connection.
Metaverse has gained sudden popularity in the real estate market as investors, crypto influencers, and property owners worldwide are willing to pay a hefty amount to experience the "next technology-enabled chapter of the sector." According to an international market research report, the global metaverse real estate market size is expected to grow at a CAGR of 31.2% from 2022-to 2028. Moreover, the inclination of investors to own NFTs is driving the emergence of new trends, thereby boosting the growth of the real estate market.
Lumen Spei ltd. just completed the first NFT project for the world's oldest fraternity – the Freemasons 
Digital Freemasonry is not an organization, it is a new form of Freemasonry, transformed from speculative – which evolved from operative Freemasonry. The main difference between the first two forms is that digital Freemasonry is organized as a decentralized organizational form and is managed by the Official Digital Freemasonry Community (ODFC).
To enter the MasonicVerse (Freemason's metaverse), you'll need to have the International Masonic Passport with you.
"International Masonic Passport (IMP) changes and greatly improves the way Freemasons around the world visit each other and Lodges around the world, and at the same time allows for quick and easy identification. IMP also allows Freemasons to simply get informed about upcoming events, ritual works and meetings set by Lodges, Grand Lodges or World Digital Lodge. In today's time when information technologies are an inevitable part of every human being, the possibility has been created for "All Freemasons to find themselves in one digital Lodge" and in this way the form of Freemasonry is changing from Speculative (1717) to Digital (2021), which is the basic mission of this project."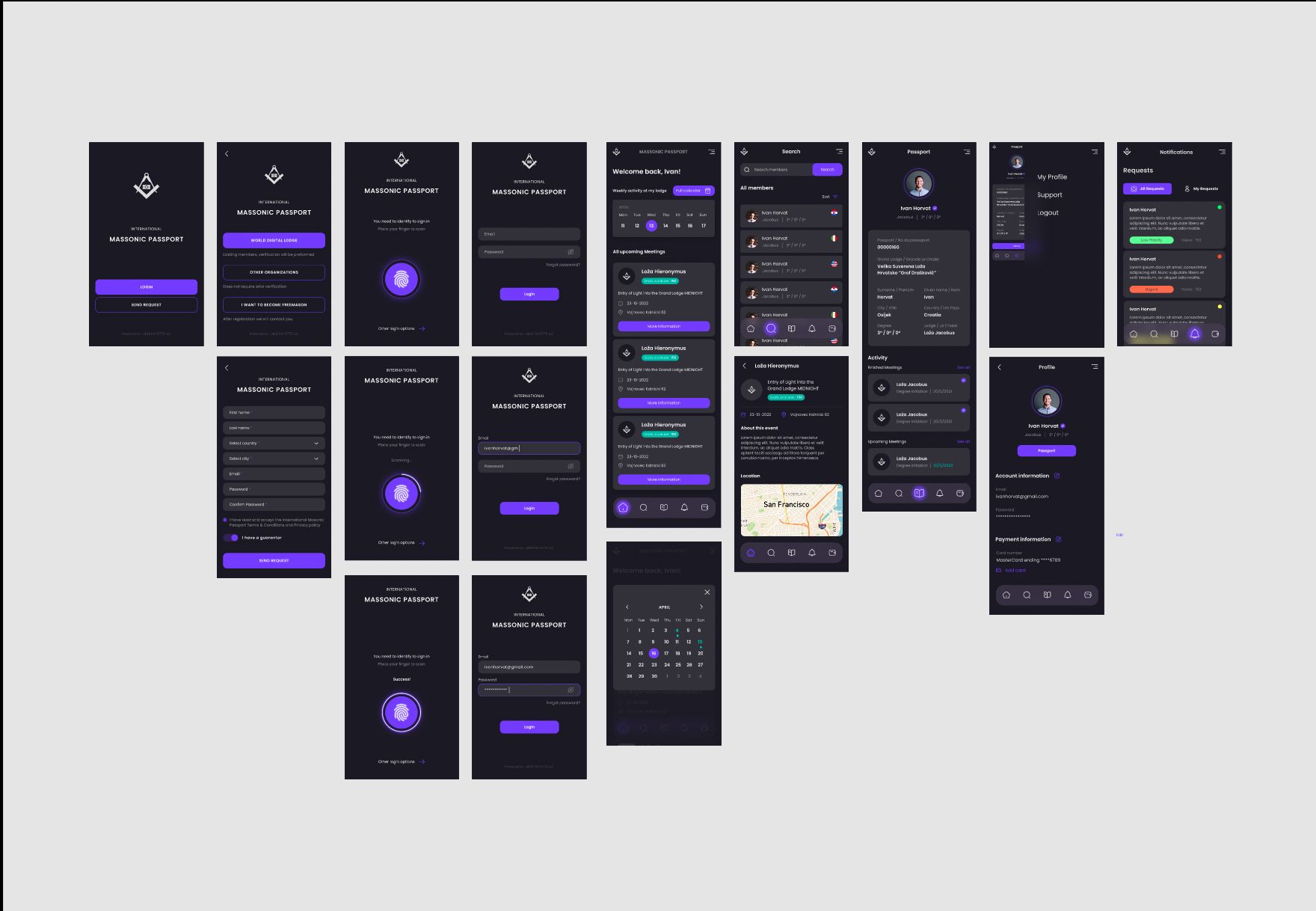 Lumen Spei extends the functionality of the International Masonic Passport with Tokenisation, Wallet Functionality, Biometrics, and Security. From the security point of view, we transformed the IMP into an authentification and authorization tool (Fingerprint reading and Face recognition) so the end clients can be 100% secure in the online Metaverse world.
From the main idea, functional specification, and architecture, basically from the user story, Lumen Spei created an End-2-End customer solution in which clients can buy an NFT through a simple webshop by paying with fiat currency (Stripe payment gateway) or by paying with cryptocurrency (Ethereum).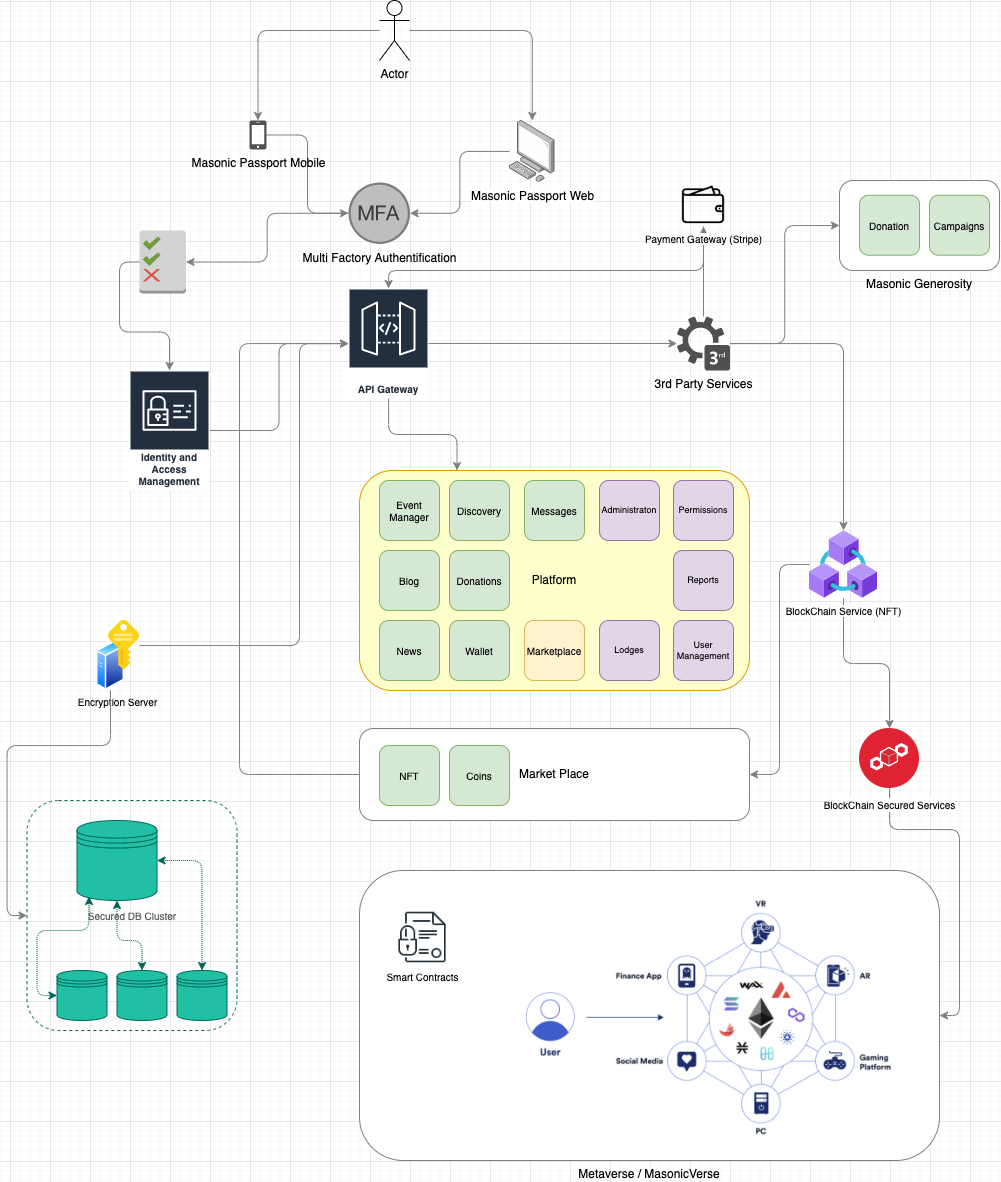 Behind the Masonic Curtain
The main idea behind the MasonicVerse and Masonic NFT projects is that one of the oldest fraternities has become fully digital. From simple user identification and issuing digital documents in the blockchain, to registering for events across the globe via the International Masonic Passport app. 
How did we start building MasonicVerse?
First, after defining all client's needs (security, anonymity, user stories, workflow, prototype, MVP, etc…), after that, we researched all available NFT markets and invested in thorough research in order to provide our clients with the best possible solution for their need. 
We had a couple of challenges:
Minting fee (gas fee)

Availability

Conversion options
The main challenge faced in the NFT market is the uncertainty in determining the price of the NFT. Now, the price of any NFT will depend on the creativity, uniqueness, scarcity of the buyers and owners, and a lot more.
For the first NFT project, we've minted a collection of 333 NFTS, which are divided into four main categories:
Bronze (234)

Silver (33)

Gold (33)

Premium (33)
And those categories are symbolically representing four elements:
When an investor gets their hands on a mini-collection of 4 different NFTs, each from a different category, they'll experience a few new benefits, both in the physical and digital worlds.
And, as you can see in the image below, when 4 different NFTs are put together, they form the official logo of digital freemasonry.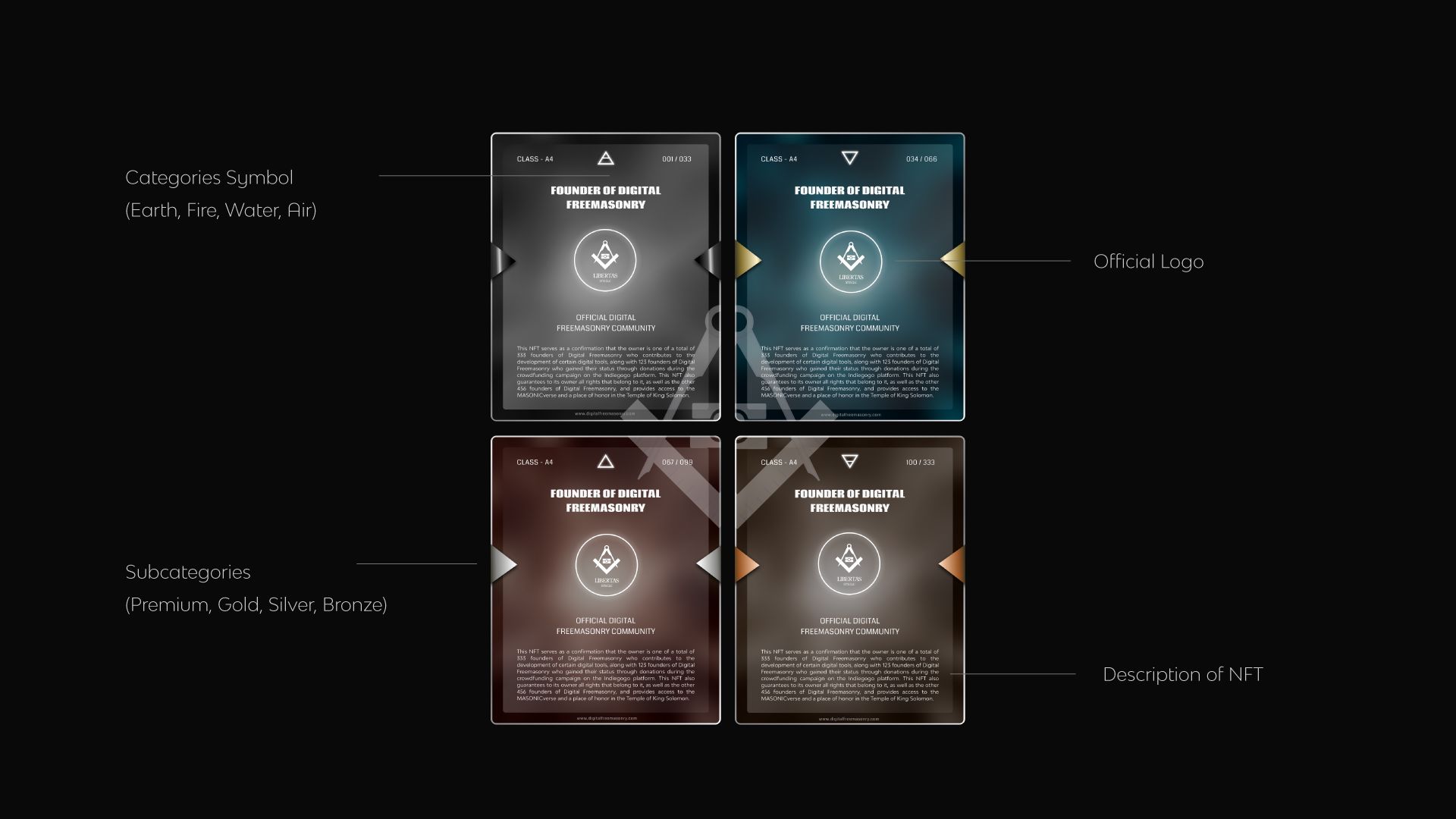 The potential of this project is colossal. There are currently around 6.5 million freemasons in the world. And with only 333 NFTs available for purchase, there's a lot of potential for additional trading activities between members of the freemasonry fraternities.
As these NFTs are primarily preordered, we're using this opportunity as a call to action for all interested investors who are ready to play a vital role in this historical moment when freemasonry readily marches towards digitalization.
We invite you to learn more about the entire project and visit the official website of this digital freemasonry NFT project.
Alternatively, it would be good to visit OpenSea and take a look at the entire NFT collection!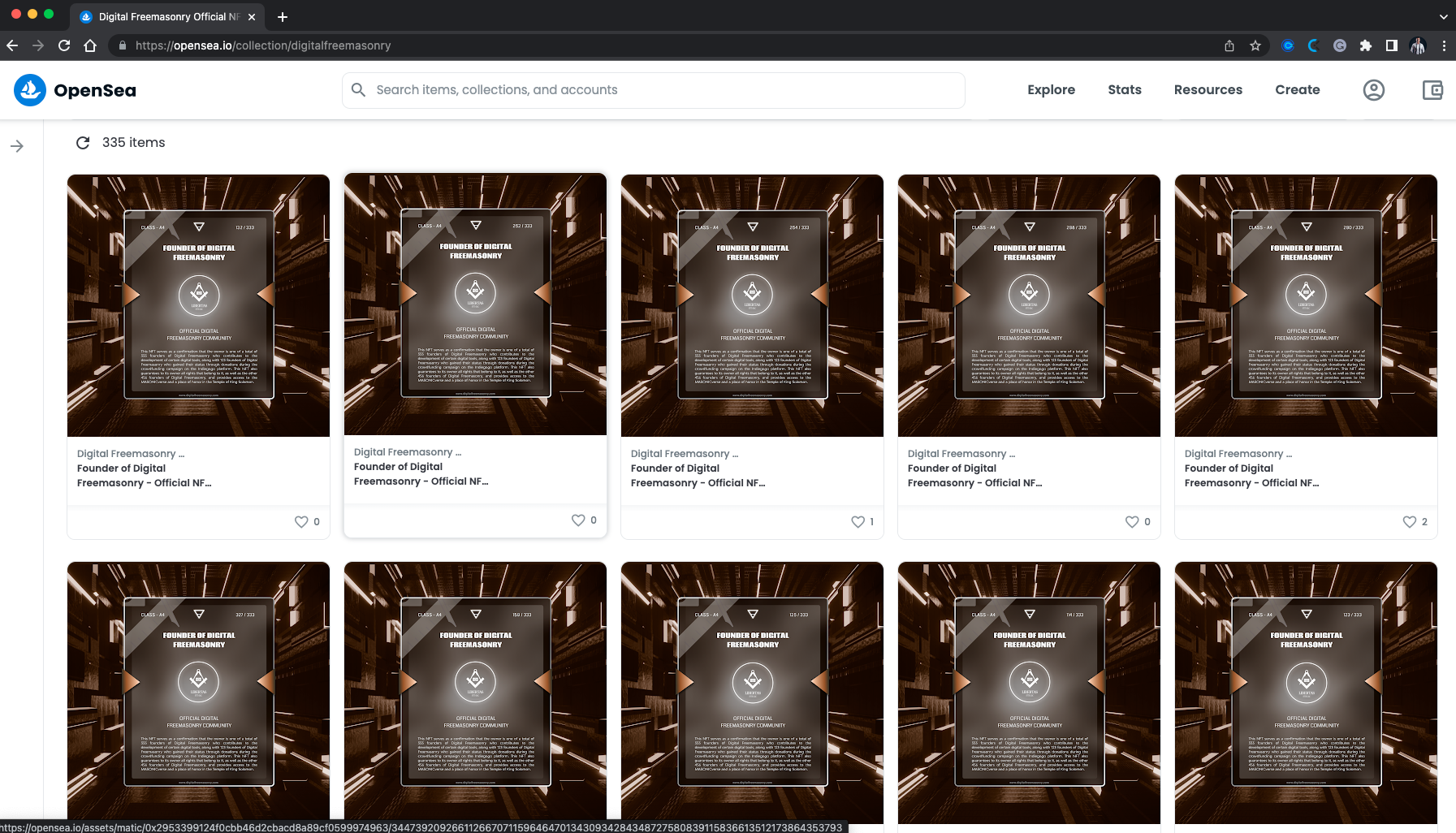 Importing NFTs into MetaMask
Take note – Founder of Digital Freemasonry NFTs have been minted on the Polygon (MATIC) Network, and as such, you'll need to adjust your MetaMask app settings.
We've written down the entire procedure for this purpose and covered every single step you'll need to go through. Visit our MetaMask wallet setup guide and make sure that you nail down everything right.
And finally, when everything is complete, your MetaMask should look like this (Hint: Notice that wallet is on the Matic Mainnet).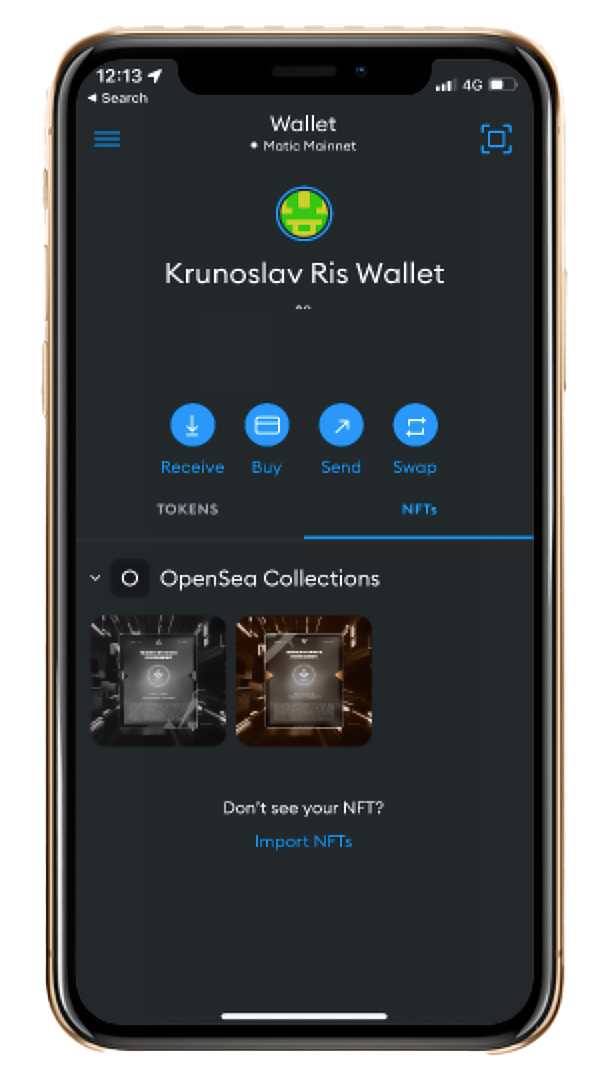 There are several next steps we'll need to take
Build the MetaVerse (MasonicVerse) property on a digital land plot.

Develop a robust decentralized platform based on the architectural document provided at the beginning of the project
If you need a stable and reliable digital transformation and metaverse partner, for developing a business strategy that includes NFTs, crypto, robotization, and automation, please don't hesitate to contact us at krunoslav.ris@lumenspei.com.
We're highly invested in exploring and developing innovative IT solutions, and for several years we've successfully digitalized every single client we partnered with. Take a look at our portfolio, find out more about how you can drastically increase your business results through digital transformation – and give us a call!
---