E-Office is a cloud-based application, similar to an ERP for simple and intuitive business support. Your customers, invoices, offers, delivery notes, warehousing, and GDPR are online in one place, always accessible from any device. The e-Office for business is ideal for freelancers, craftsmen, small and medium-sized enterprises, and associations.
E-Office is intended for clients who have a simple form of retail business and do not have a huge volume of daily invoices that need to be processed.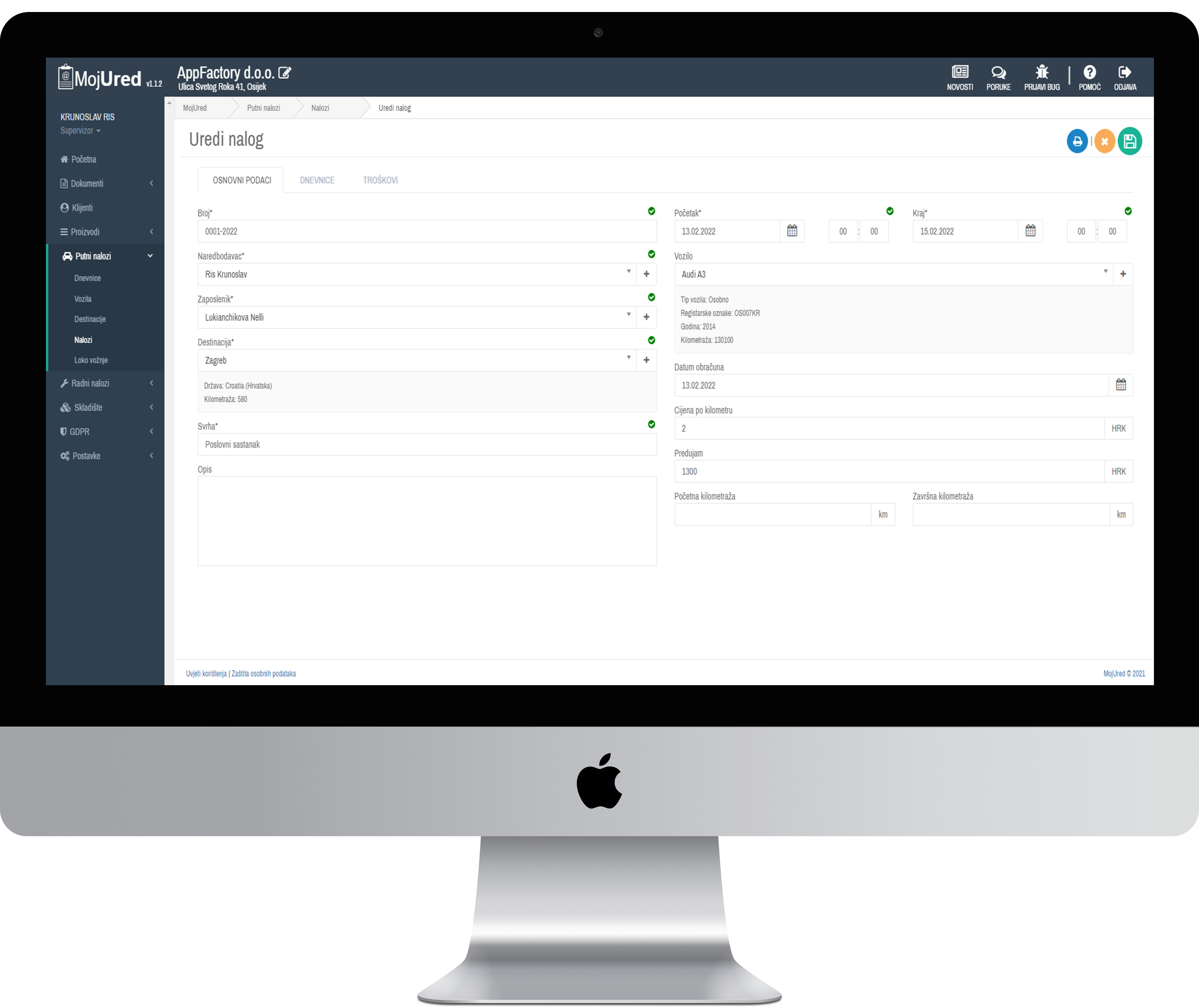 The main challenges
As a small- or medium-sized company, you've already experienced the effects of extensive bureaucracy. Chances are, you're a bit overwhelmed by a huge amount of paper documents. With e-Office, you can easily manage all your documents, employee information, invoices, travel warrants, and a plethora of various irreplaceable documents.
Having your documents and internal company data scattered across several platforms creates mainly data inconsistencies and contributes to the creation of the infamous data silos. To ensure that all your internal documents, billing, and other sensitive documents are secured and accessible to your employees, we developed different permission-based views of the application. Supervisors will have complete access to all information and will act as super admins, while employees will have a different set of features at their disposal.
By using e-Office, you'll be able to completely control all your bills, offers, documents, gain a holistic overview of your employees' activities and time logs, and fully minimize the number of paper documents your team needs to handle. E-Office is an ideal solution for small- and medium-sized businesses that want to digitalize their office-related activities and save time on creating, editing, and sending the required documents.
Solution
E-Office is a platform that contains a significant number of opportunities for improved business both for start-ups and those who are already well-established. It was developed using REST API, Java 9, Microservices, and Angular. The utilization of advanced development technologies has enabled the e-Office platform to function remarkably effortlessly.
E-Office has a variety of usage choices, and we will go through some of the most crucial ones.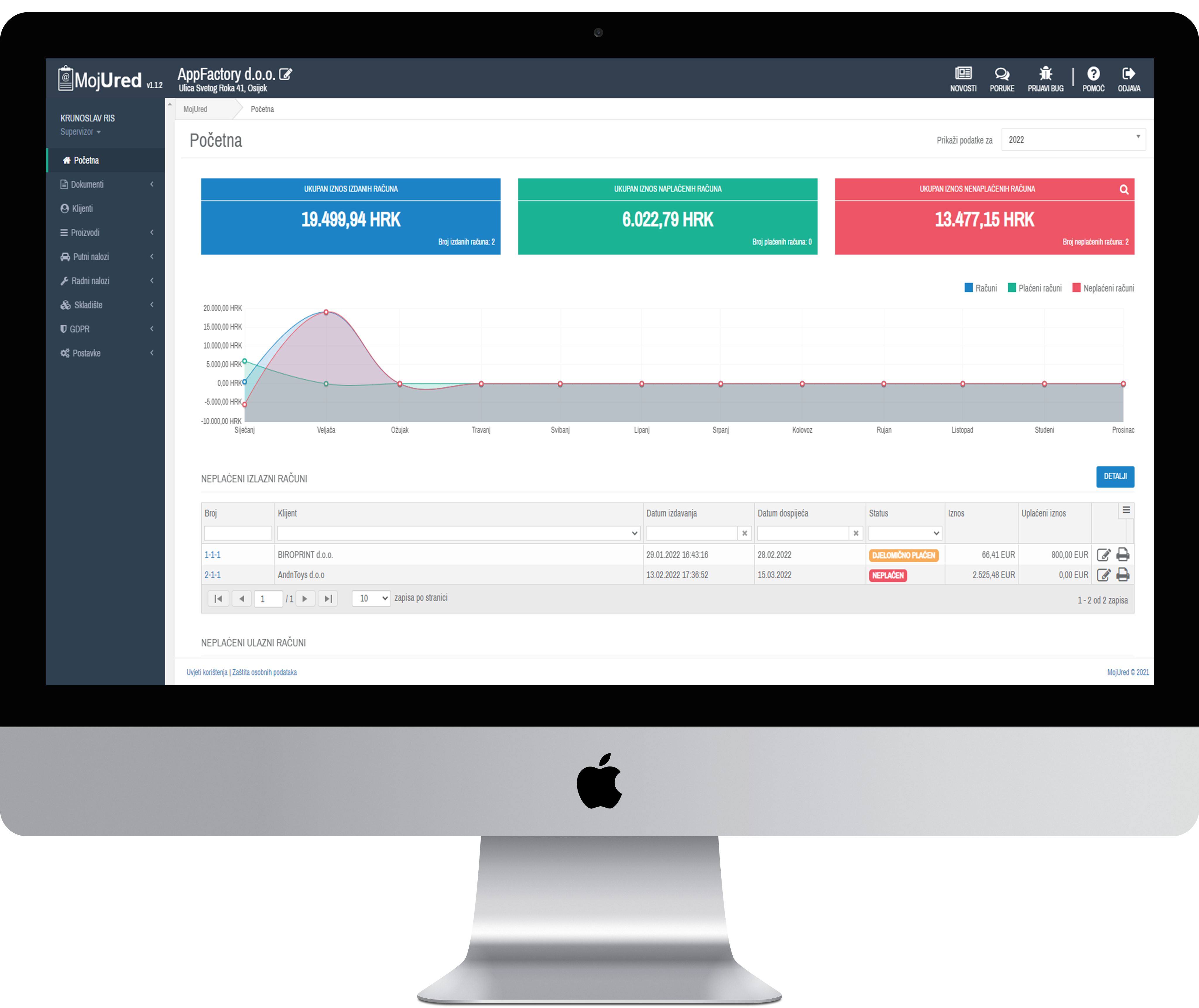 Travel orders made easy
You can quickly and easily track all of your traveling orders and costs with e-Office. Writing travel orders allows you to duplicate prior ones, and per diems and expenses can be altered to match the currency in which the invoices were paid. A simple interface can be used by anyone, including those with limited technical skills.
Invoices
When entering into the e-Office system, the main page displays a chart of issued, charged, and uncollected invoices. Visually appealing graphics make it simple to monitor cash flow throughout the year. You can check the date of issue, due date, and payment method for each individual account.

Clients
The "clients" subpage displays all clients or partners with whom you conduct business or collaborate. You may view each of your client's accounts and the bills you've issued or received from them. Customers can also be searched and classified by country, legal entity, and whether the company is a customer or supplier.

Contracts
There is a selection of standard contracts ready for printing in the "documents" section. Contracts regarding employments, dismissals, warnings, decisions, and confirmations are all in one spot. This method of storing crucial paperwork allows you to print the required documents in a very short period of time, which are written generically and are ready to use.
Enterprise stock
The warehouse section contains all of the essential information regarding the products managed by the organization. Delivery notes, trays, intermediate warehouses, and inventory may all be monitored. There is a warehouse for completed goods and a warehouse for bulk cargo inside the warehouse.
Additional features
Additional server services, such as lists of employees, users, tax groups, branches, and payment devices, may be found in the settings. With these features, e-Office is a complete business solution that covers all of the areas.
You'd like to try out e-Office?
If you are not yet certain that e-Office is an application that will add massive value to your business, you may request access data to enter the application to see if it is entirely suitable for you. We'd like you to feel comfortable using e-Office, and if it turns out to be exactly what you were looking for – we'll implement it in your organization as soon as you want it.
At Lumen Spei, we are committed to delivering high-quality applications that satisfy our clients' demands and expectations. After 15 years of growth and training, we are proud of the high quality we provide and our commitment to each individual customer.
If you have any questions concerning this or any other project in which you are interested, please do not hesitate to contact us. Reach out to us and let's discuss your ideas!