Innovamare is an interactive web platform with the main focus on the transformation of the blue economy. Innovamare is designed as a place of connection for businesses, institutions, researchers, professionals, and users from the corporate, scientific, civil, and public sectors to address difficulties related to the Adriatic Sea's sustainability mission by using underwater robots and sensing technologies.
The main goal of the Innovamare platform is to assist in the creation, development, and maintenance of the innovation and entrepreneurship ecosystem, as well as to serve as the central point for the realization and organization of services within the underwater robotics and sensors digital innovation hub (DIH).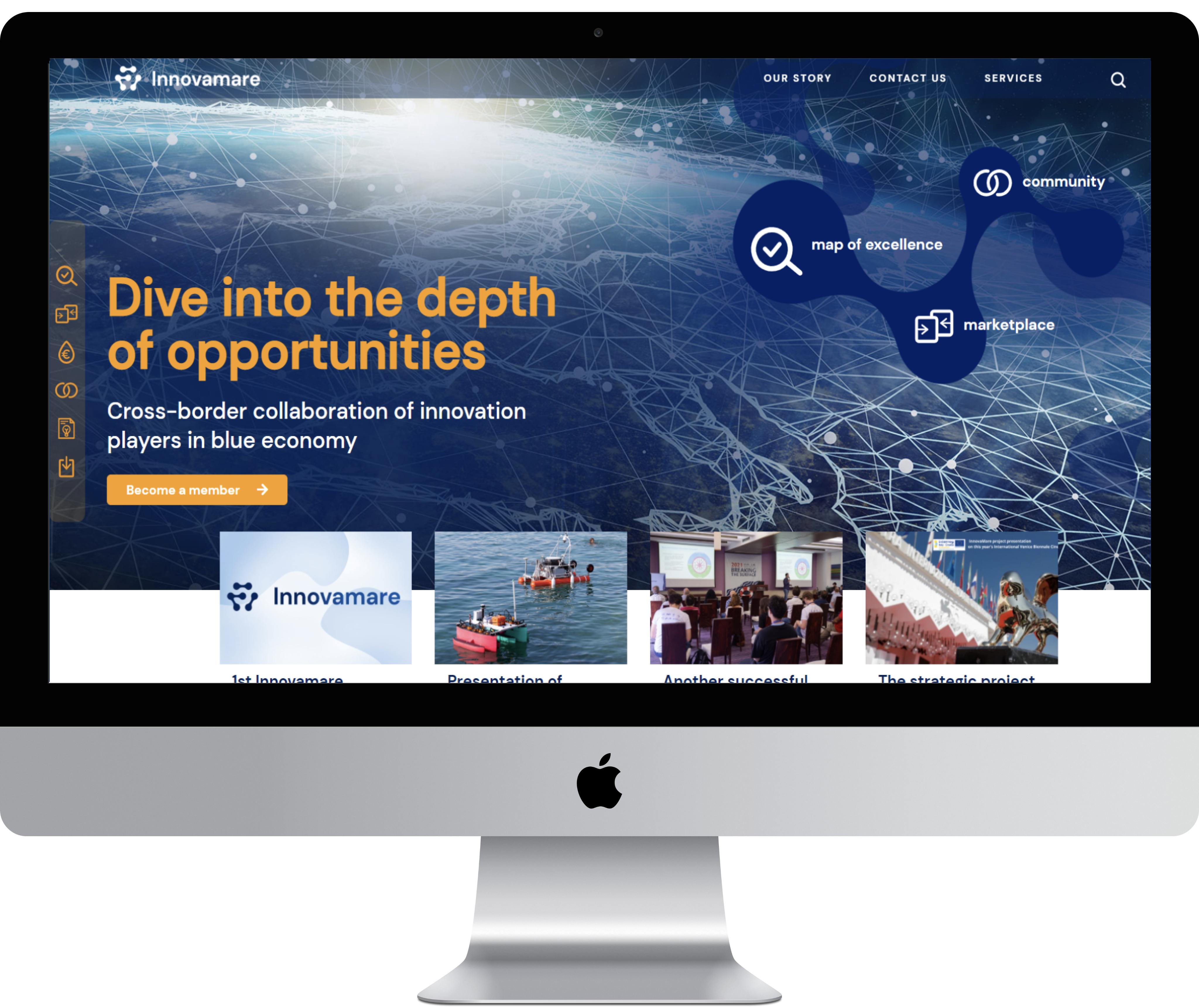 The main challenges
The low competitiveness of SMEs on international markets, the efficiency of their innovation activities, human skills capacities, a lack of support schemes, and a lack of stakeholder participation and interconnections among business, research, and the government sector in blue economy sectors are listed as the main challenges in the Programme area.
To resolve these issues, the goal of Innovamare is to improve the cross-border institutional framework by collaboration, developing and implementing strategical and operational level capacity, which involves a mix of policy tools and innovation players, as a framework for the development of technological innovations for the long-term sustainability of the Adriatic Sea.
The project is built on a mission-oriented approach that, rather than emphasizing on sectors as the traditional industrial policy does, emphasizes problem-specific social concerns that many various sectors must collaborate to resolve. In this example, the goal is to enhance the effectiveness of underwater robotics and sensor innovation activities in the area of Adriatic sea sustainability as a vital strategic societal concern on a cross-border level by connecting policy tools with innovative players.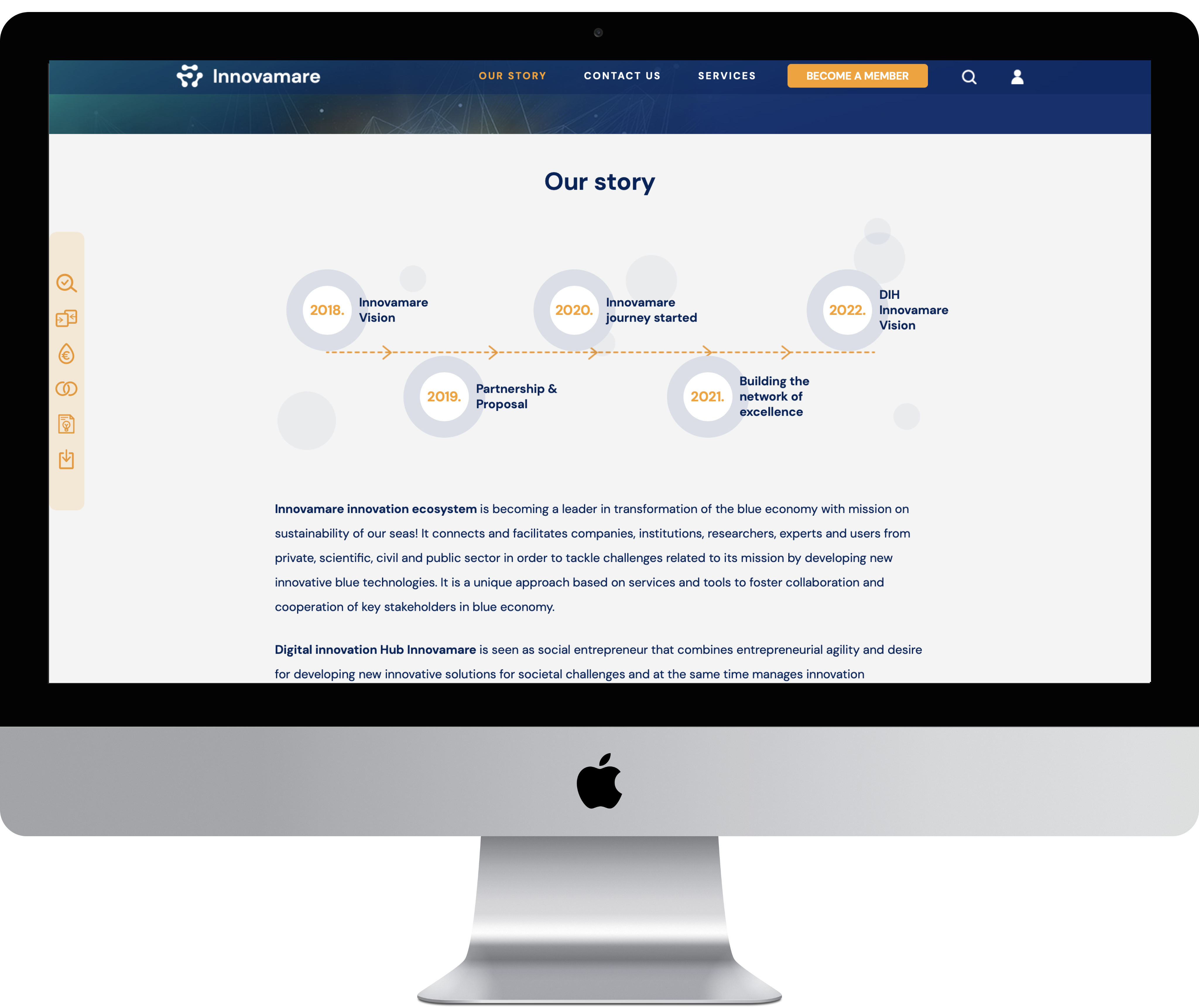 Solutions
Digital Innovation Hub is defined as a social entrepreneur that integrates entrepreneurial agility with a desire to produce new innovative solutions for community issues while also managing the innovation ecosystem and its members' knowledge, experience, and capacities in that direction.
 Innovamare is a custom web platform developed using PHP, Laravel, and Angular.
The benefits of Digital Innovation Hub
By joining the DIH Innovamare innovation ecosystem, you will receive the following benefits:
a dedicated technology brokerage agent who will get to know your needs, expertise, and market potential.

promotion and advocacy of your business at a variety of events hosted by Innovamare or its partners

marketing via both social media and web platform

a collaboration with other members of our community on project suggestions, investments, or other types of activities

discounted or free services from trusted technical partners

assist in the planning of various activities that are essential to your business
The core functions of the interactive web platform are the map of excellence, which brings together key players in blue economy innovation, the community, which collects profiles of experts, businesses, and projects based on areas of interest, information and knowledge transfer, and the marketplace, which is backed by a digital brokerage and brings together projects, solutions, and expertise. 
The services portfolio is completed by the service of the Digital Innovation Hub, which brings together professionals to provide answers to users' difficulties, funding opportunities, and counseling to stakeholders on rule books, regulations, and strategies.
The Map of Excellence
The Map of Excellence in Blue Technologies shows all participants on the platform. Participants are divided into categories according to the sector to which they belong.
Scientists, scientific institutions, corporations, local and regional governments, innovators, public organizations, and business support institutions are all welcome to use the platform.
Find your partner 
The Marketplace is one of Innovamare's features and is dedicated to a specific niche connected to the innovation ecosystem – the field of underwater robotics and sensors – with a tendency to enlarge to technologies that are directly connected to the DIH mission, the Adriatic Sea's sustainability.
Digital brokerage in projects, knowledge, and solutions are represented by the marketplace. In other words, it is a virtual meeting space where all stakeholders can collaborate on the project's implementation.
DIH Innovamare services
Digital Innovation Hub is a place where its members exchange their knowledge, experience, and resources to focus on adding value to the blue economy and ensuring the sustainability of the sea through an open innovation approach.
A one-of-a-kind spot where you can find all types of skills and training available, as well as support to find investment and additional services, such as Innovation Management, Project development, and project management, Civil engagement, Tech foresight and market intelligence, Business model development for SME, and Data service.
You're looking for a partner on your digital journey?
To continue, if you would like to learn further about Innovamare, we recommend visiting their official website to learn about some incredible features or become a member. 
Our main priority at Lumen Spei is complete client satisfaction, thus we strive to provide our clients with only the highest-quality software. We've had countless opportunities to get deeper insights into consumer behavior across multiple industries thanks to more than 15 years of our involvement in the industry.
Now, we'd be glad to provide you with support in the form of our experienced team's knowledge and abilities.
Reach out to us and let us know what kind of help you need to finalize your ideas!