Trovi is a one-stop shop for businesses, digitalizing standard business services you'd use when running a business. Trovi serves companies and entrepreneurs as an invoicing tool, Project & Time tracker for projects administration (appreciated by freelancers), but the biggest added value are integrated business services such as Accounting and Payroll, Legal agenda, Tax advisory, and more.
In essence, Trovi provides you with verified accounting, payroll and legal services, project and task planner & tracker, contract document management, and a ton of other must-have features. 
The main challenges
Before the full-scale development started, we needed to ensure that Trovi provides freelancers, small businesses, and even enterprises with everything they need to run their business.
As a freelancer, you'd need to track your projects, track your time, and invoice your clients as fast as possible. Through Trovi, we aimed to provide freelancers with all the required tools to keep their day-to-day operations running smoothly. 
For small businesses, we wanted to make sure that they can be as efficient and lean as possible. To ensure that, Trovi quickly provides small business owners with easy-to-use invoicing, expense tracking, accounting, legal services, project and time tracking, and many more useful features. 
We knew that Trovi can bring even more to the table. Unlike freelancers and small businesses, large companies are usually in need of more advanced features. Regardless of the size of your company, Trovi can provide you with a set of advanced tools and services to help you improve your growth rate and maximize results. 
Essentially, Trovi was created with continuous growth and innovation in mind. Whatever size and type of company, Trovi can offer a plethora of tools and services that can directly impact your business growth. 
Solution 
Trovi is one of the few all-in-one platforms that can offer such a huge number of functionalities at a high-performance level. It's been developed using Angular, Laravel, and PHP 8. To build a corresponding database, we used MySQL and it's been working flawlessly since day 1. 
There are tons of functionalities we've incorporated into Trovi, and here are some of the most critical ones. 
Track all your business expenses
Using Trovi, users can now track all of their business expenses and track every single aspect of every expense. All of the expenses can be swiftly exported, ready to be sent to your accountant. You'll be able to easily oversee your expenses on the main dashboard, visualized in a simple chart.
Gain a holistic overview of all your contacts
In the Contacts section, you can now easily find all of your customers and suppliers, along with their balances. You'll know how many invoices you've issued to which partner and for how much money you've issued them. If there are any invoices overdue, you'll be the first one to know.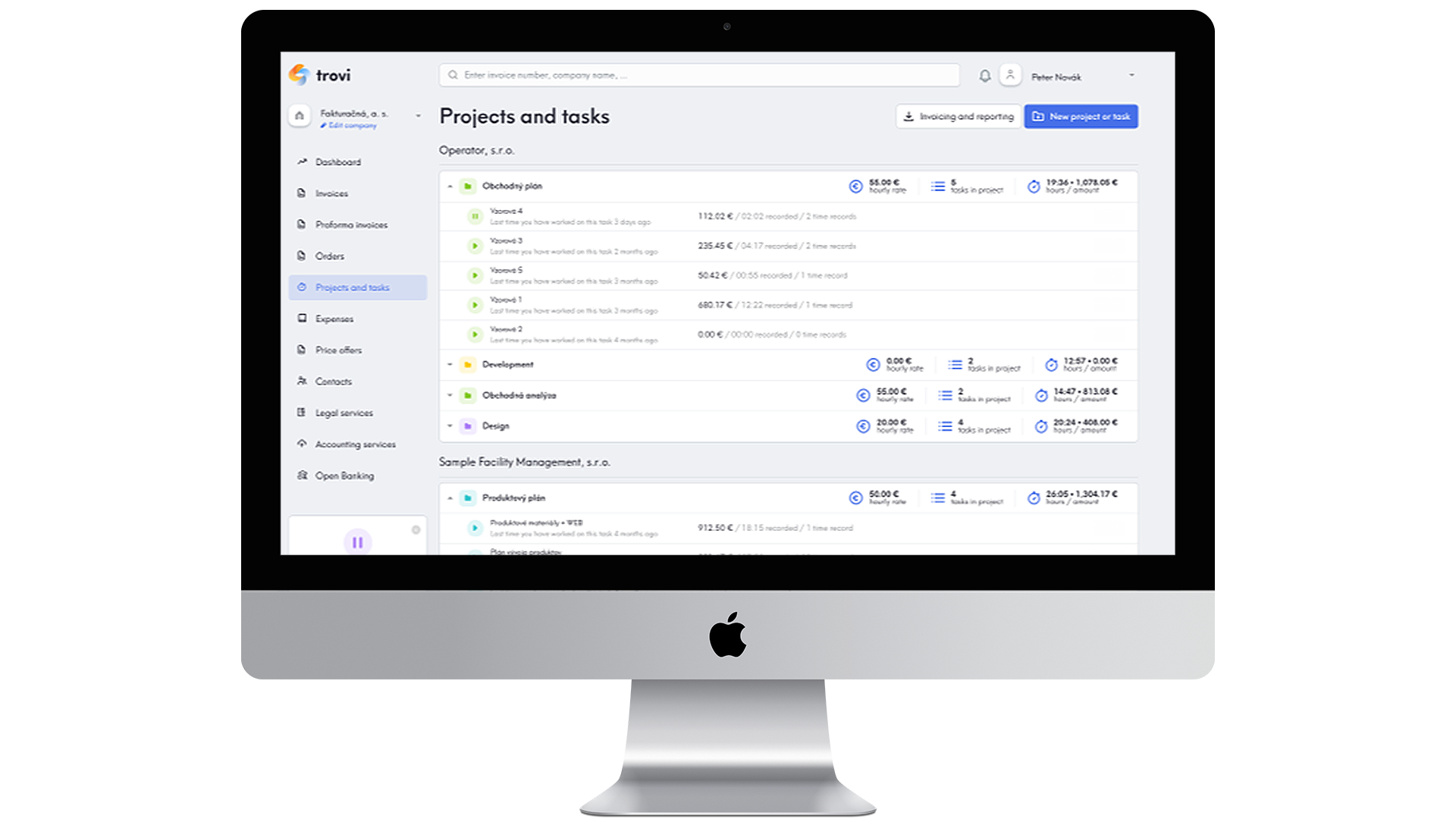 Track and manage all your projects
With Trovi, you can easily track and manage all your project-related activities. Using Trovi's Tracker module, you'll be able to create and manage projects and tasks for every single customer. Also, if there's a different hourly rate set for different projects, you can track that too. 
So, when it comes to invoicing your projects – you'll be able to do it in just 2 clicks.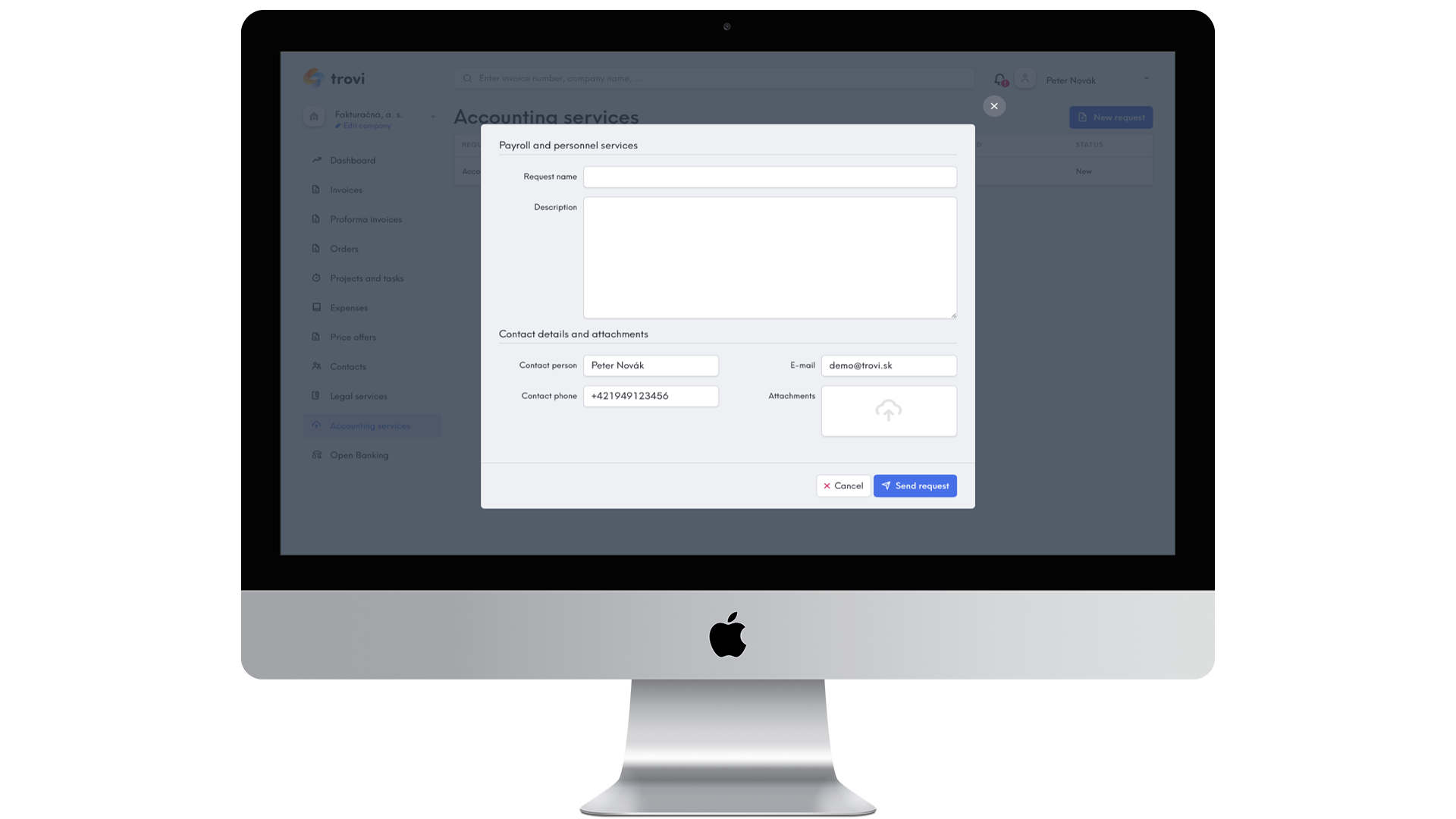 Strengthen your HR department with specialized payroll and HR section
Trovi comes with an accounting and HR services module that allows you to instantly access professional and verified HR and payroll services and advisory. Taking into consideration the information you provide, you'll be connected with the right partner that can help take care of your needs. 
All you need to do is – fill out a single form! 
Customize every single invoice with your company branding
With Trovi, you'll be able to easily create clear and smart invoices, enriched with your visual identity. You can upload a custom logo and a stamp, and they'll be automatically added to every single document – an invoice, order, or a price offer. 
Export your documents in bulk for your accountants
Trovi helps you save time on preparing documents for your accountant. All you need to do is – choose what data you want to provide your documents with and export them in XLSX format with just 1 click.
Gain access to Open Banking
Open Banking is a new, innovative, and more secure way to connect your accounts with business administration that you have in Trovi. Thanks to Open Banking, you can use automatic payments pairing with invoices or expenses and keep track of your account balance and transactions right in Trovi. 
New Open Banking features are already in development as we want you to reap all the benefits of this premium service.
You're looking for a reliable partner?
Firstly, if you'd like to find out more about Trovi, we encourage you to visit Trovi's official website and learn more about some incredible features, including Open Banking.
At Lumen Spei, we strive to deliver only the highest-quality software, as our primary concern is our customer satisfaction. With more than 15 years of hands-on experience in the industry, we've had numerous chances to gain a deeper understanding of customers across various markets. And now, we'd gladly offer you help in form of skills and knowledge of our experienced team. 
Whatever kind of digital solution you're in need of, we'll ensure that your customers stay as happy as possible and loyal to your brand experience. Reach out to us and let's talk about your ideas!